Contact a Construction Lawyer when Assistance Needed
Video Transcribed: Hi there, Tulsa Construction Attorney Brian Carter with TulsaConstructionLawyer.com.  In this video, I want to chat a little bit about what the difference is between an express and implied warranty.
To start things off, I'm going to give you guys a definition of warranty that the courts have adopted over the years. Obviously, most folks know that what a warranty is and have an intuitive idea there as well, but the courts like this definition.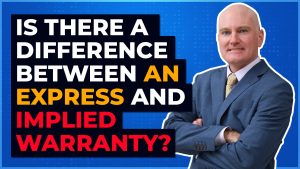 And in essence, it's an express or implied statement of something undertaken as part of a contract, but collateral to its object.
So it's essentially something additional to the physical output of the contract.
And like I said earlier, most people know that it's a guarantee that the work is going to be done satisfactorily and hold up.  An express warranty is a warranty that is established by the terms and conditions of the contract.
It is in writing, they're usually very detailed as to what they include and what they do not include, and a good example of this is where you have a seller or a owner saying they will provide a one-year builder's warranty, and that's fairly basic. But that's pretty much kind of as simple as it gets.